History
Over the Carbis Bay Hotel's 125-year history, it has wowed guests from all over the world and provided a bolthole on Cornwall's inspirational coast for some of the nation's finest writers.
Built in 1894 by the renowned Cornish architect Silvanus Trevail, the Carbis Bay Hotel quickly gained popularity as a result of the boom in British seaside holidays, which had been made possible by expansion of the railways. Indeed, at the turn of the 19th century, neighbouring Carbis Bay station was a grand affair, boasting its own stationmaster, station house and full-time staff.
Today, the business is owned and managed by the Baker family, who have made significant developments to the hotel. Due to this ongoing investment programme, Carbis Bay is widely recognised as one of Cornwall's premier waterside hotels. The Estate comprises 125 acres within which is situated the 38-room hotel and most of our coastal properties.
Silvanus Trevail
Silvanus Trevail was a British architect, born at Carne Farm, Trethurgy in the parish of Luxulyan, Cornwall on 11 November 1851. Cornwall's most famous architect of the 19th century, he is well known for his design of board schools in the county but also designed Cornish hotels including the Carbis Bay Hotel, Headland Hotel and Atlantic Hotel, Newquay.
A pioneer of his time, he rose to become Mayor of Truro and President of the architects' professional body, the Society of Architects.
Rosamunde Pilcher
'Penelope, however, has taken everything in her stride. By everything, I mean the enormously thick carpets, swimming pools, Jacuzzis, private bathrooms, televisions by our beds, huge bowls of fresh fruit, and flowers everywhere. We have clean sheets and towels every day. Our rooms are all in the same corridor, and have adjoining balconies, looking out over the gardens and the sea. From time to time, we step out onto them and converse with each other. Just like Noel Coward's Private Lives.'
The Carbis Bay Hotel has been immortalised by the author Rosamunde Pilcher, and appears as The Sands Hotel in her novels The Shell Seekers (as seen in the excerpt above) and Winter Solstice, both published in the UK by Hodder Headline.
Visitors from all over the world come on a 'Pilcher pilgrimage' to West Cornwall to bring alive the magic of Ms Pilcher's writing, and to experience first-hand the drama of the scenery in which much of her work takes place.
We also have a literary connection with Virginia Woolf, who stayed at Carbis Bay Hotel for three weeks in 1914, and whose later novel To The Lighthouse was inspired by lonely Godrevy Lighthouse – visible in St Ives Bay from across our estate.
More at Carbis Bay Estate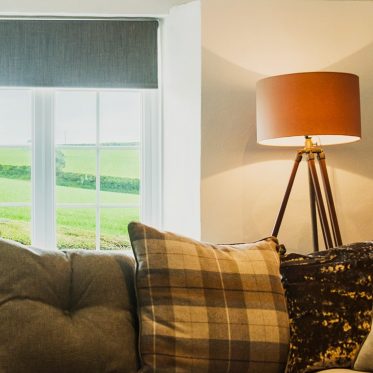 Self-catering
Lannear Farm
Set in pastureland near Polperro, Lannear Farm offers flexible self-catering options.
Main House
Inside our main house, discover individually furnished rooms and suites some with sea views.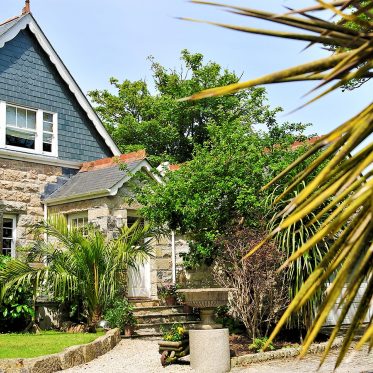 Self-catering
Old School House
A picturesque country retreat, the Old School House enjoys access to all hotel facilities.