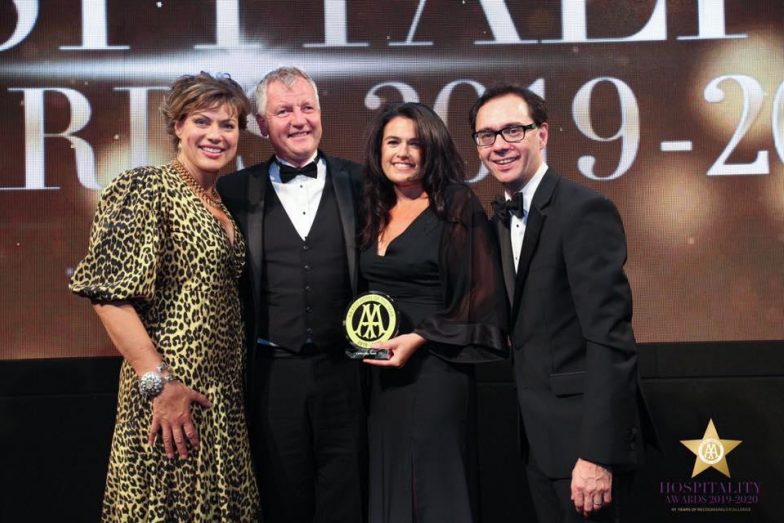 Carbis Bay Hotel Awarded AA Eco Hotel Award 2019
September 24, 2019
Carbis Bay Hotel, Spa & Estate has been awarded the AA Eco Hotel Award 2019.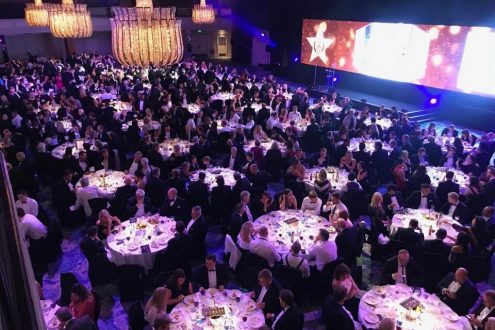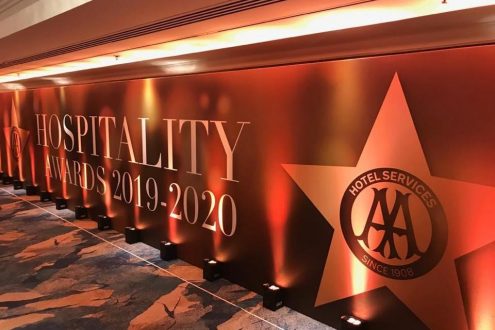 Held at JW Marriott's Grosvenor House hotel in London, the awards were presented by Kate Silverton in front of a packed audience of hospitality professionals, and recognises the excellence of hotels, restaurants and their respective teams across the length and breadth of the UK.
The Eco Hotel Awards is awarded to the hotel which has demonstrated a clear and dedicated commitment to sustainability. Owner Stephen Baker said "We are absolutely delighted to have been honoured with this award – showing our dedication and commitment to the environment now, and for generations to come."
The family run estate located in Carbis Bay, near St Ives has demonstrated its commitment to the environment in a number of ways, including ensuring the consistent excellent quality of bathing waters and a duty of care to the Blue Flag beach itself, its surroundings and marine life, over many years. The estate encourages local beach cleans, marine-learning activities and ocean-going activities whilst not permitting motor sports off the beach.
The installation of an on-site Energy Centre has provided power for the hotel, spa, beach lodges, ocean venue, beach club complex, apartments, suites and cottages. Heat generation from electricity production is harnessed to provide a constant flow of hot water in a newly installed district main and is used to provide hot water throughout the site and also for the pools, eliminating at least 12 boilers and providing a carbon saving of approximately 70 tonnes per annum.
Carbis Bay Hotel is also the first hotel in the world to have installed pathways and a promenade made from recycled plastics from the ocean, using, to date, the equivalent of some 3.5 million plastic straws. They have, of course, banned plastic straws in their restaurants too! The Tom Sellers 'Story by the Sea' residency this summer partnered up with ocean campaigners Parley to remove 50 metric tonnes of plastic from the sea. Parley teamed up with artists including Doug Aitken, Jenny Holzer and Julian Schnabel to create a range of tote bags made from plastic bottles taken from the sea.
In order that their recent buildings will weather into the natural surroundings, the team used materials such as 'kebony' for all the cladding and green roofing. This is a sustainable product made more durable, stable and aesthetically appealing through the infusion of biowaste (a process called kebonisation, that permanently modifies the cell wall of the timber). The material offers good weather and wear and decay resistance, has a very low carbon footprint and requires no maintenance apart from normal cleaning.
Waste disposal is also at the forefront of the Estate's green ways, with recycling bins available throughout the area and also recently invested in an electric buggy for on-site transportation and Tesla charge points, complimentary to guests and visitors alike. Wherever possible, the hotel team use email and online options, even in guests' individual bedrooms or properties where tablets are provided with all the local information and offerings instead of a bulky folder. All essential printed marketing material is supplied on FSC materials.
The Award cements Carbis Bay Hotel and Estate's position as a pioneer in eco luxury hospitality. Their commitment to sustainability and their green credentials redefine what a luxury hotel can be, a richness of experience with a refreshingly eco-friendly outlook.