We are thrilled to welcome renowned chef Adam Handling to Carbis Bay Estate. 'Ugly Butterfly', which is chef Adam's most sustainable brand of restaurants, will launch in the Ocean Venue on the 2nd August, offering British food, inspired by Cornwall.

Ugly Butterfly showcases chef Adam Handling's passion for converting locally-sourced, quality ingredients into beautifully-presented dishes, packed full of flavour. In keeping with both Adam's and the Estate's ethos, there's a strong focus on sustainability. The Ugly Butterfly bar uses trims and offcuts from the ingredients used in the restaurant to create delicious drinks and bar snacks. This bar menu will illustrate that there is no such thing as food waste, much in the same way that there is no such thing as an Ugly Butterfly.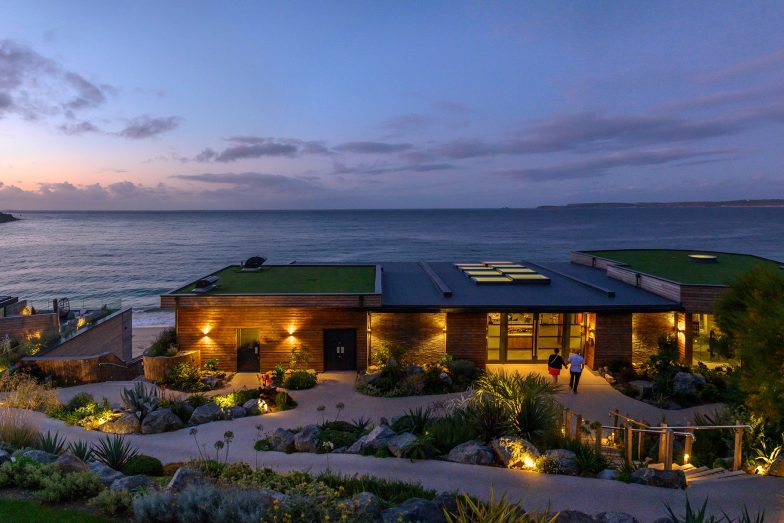 A highly accomplished chef, Adam Handling has most recently been awarded 'Chef of The Year' in the 2019 Food & Travel Reader Awards, and 'Best Restaurateur' in GQ Magazine's Food & Drink Awards 2020. His flagship restaurant, 'Frog' by Adam Handling in Covent Garden, opened in September 2017 and was heralded as a "smash hit" by the London Evening Standard and won Best Newcomer Restaurant in the 2018 Food & Travel Reader Awards.
Adam has appointed Jamie Park as Head Chef – previously Head Chef at The Frog and Group General Manager, George Hersey. George has previously lived and worked in Cornwall for a number of years, and will be based in Carbis Bay. He has established relationships with local food and drink suppliers including Verdant Beer Falmouth, and Pentire non-alcoholic spirits distilled with Cornish coastal plants. Chef Jamie will be focusing on hyper-local ingredients, sourcing fish from Harlyn Bay, Portilly Oysters, razor clams from the Hale Estuary, Cornish sea buckthorn, Cornish Gouda, and Saint Ewe eggs.
British Food Inspired By Cornwall

"Everything we do at our restaurants and bars is based on the location and surroundings. It's super important to me to support the local suppliers and Carbis Bay has a beautiful seaside and rural setting, so we'll be using more of the seafood and foraged ingredients that the area is well-known for."

Spectacular Views

In a stunning Cornish Atlantic coastal setting, just a mile from St Ives, the restaurant and bar offer spectacular views across one of the worlds most beautiful bays, which includes the Estate's private beach and promenade. The interiors have floor-to-ceiling glass windows, overlooking the ocean, dried local flowers hanging from the ceiling and white pendant lights illuminating each table.

Luxurious, Relaxing, Sustainable Experience

​Chef Adam's Ugly Butterfly, will offer an all-day dining experience. Adam has created the menus in the restaurant to be as elevated and theatrical as at Frog by Adam Handling in Covent Garden and will use ingredients carefully sourced from in and around Cornwall. ​​
As a leader in sustainable hospitality, Carbis Bay Estate is the perfect home for the Ugly Butterfly brand. Having won such prestigious awards as AA Eco Hotel of the Year 2019–20, we're delighted to welcome a chef as passionate as Adam Handling to the estate to delight our guests with a luxury, sustainable dining experience.
If you would like to make a reservation at Ugly Butterfly please book below or call the Adam Handling team on 07722293359. We look forward to seeing you soon.